Enjoy the breathtaking vista while you savour delicious food. Or bask in the warm ambience as you indulge in your favourite dish.

The partly indoor, partly open air multi-cuisine restaurant at the Resort offers a delightful experience that is hard to forget.

Whether it is breakfast or lunch, evening snacks or dinner, the food is freshly prepared and served. While the taste is excellent, the variety in the menu makes the food even more enjoyable.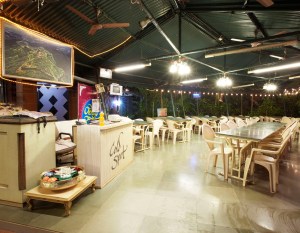 For food lovers, Coldspot Village Resort & Restaurant offers the ultimate foodies delight.

Our Multi-Cusine Restaurant with specialization in Indian ,Chinese recepies as well as Sea-Food recipies kindles the taste buds of Enthusiastic food eaters with our mouth watering food menu.

Coldspot Village Resort & Restaurant also offers you to enjoy to personal sit outs, camp fire dinner or swimming pool adjacent buffets.